NATIONWIDE DEMOLITION CONTRACTORS & DISMANTLING SERVICES
Ron Hull Demolition Ltd are a UK nationwide demolition contractor, specialising in commercial demolition and dismantling services. With over 25 years of experience, our demolition company are experts in the industry and offer consultancy services on a range of projects.

With an enormous range of waste management operations at our plant, our specialist dismantling & demolition services and an experienced team, we are able to perform highly complex decommissioning, controlled demolition & site dismantling processes around the UK.
As a demolition company, we have years of experience performing the most demanding and detailed site clearance operations with a fully self-contained clearance, material recycling & remarketing cycle based around the principle of complete land remediation and environmental best practices.
UK LEADING DEMOLITION CONTRACTOR
We ensure your works are completed to the highest standards of safety, efficiency and professionalism, and are confident we can overcome the most demanding constraints of any project. With this approach, we have performed successful site clearance operations all across the UK, even under difficult circumstances, and have built a solid reputation as a leader in the field.
Established in 1992, Ron Hull Demolition Ltd, located in Rotherham, South Yorkshire, has come to embody the best in modern, environmentally responsible waste management. Our demolition company offers an innovative 'nothing to landfill' philosophy along with vast experience in all kinds of site clearance & waste management projects.
Offering competitive nationwide coverage along with our local services in Sheffield and South Yorkshire, our demolition team are at the cutting edge of a demanding industry. By regularly investing in the latest technology, drawing on our diverse range of knowledge and with a level of confidence built upon years of experience as industrial demolition contractors, there is no project beyond our capabilities. You can view some of the many successful past projects below.

Ron Hull Demolition Ltd are focused on maximising the best value, through direct asset recovery and resale without third-party intervention, with the ultimate goal of complete client satisfaction. We strive for excellence in what we do, to ensure all our clients benefit from a clearance operation that's:
Timely
Professional
Efficient
Environmentally friendly
Safe
In line with all current environmental & demolition health and safety legislation
Watch: A short video of one of our urban projects in Rotherham, South Yorkshire
DEMOLITION INDUSTRY CONSULTANTS
Want to know more about why Ron Hull Demolition Ltd is one of the UK's leading providers of site clearance services? One of the key points underpinning our enviable reputation is our almost 30 years' experience in the industry. We bring this learned expertise into all of our projects to deliver a result that often surpasses requirements and has resulted in satisfied clients across the country. If you want to learn more about why Ron Hull is an industry-leading commercial demolition contractor, click below and read more about our background in:

As one of the UK's leading demolition & decommissioning consultancy, Ron Hull Demolition Ltd understand that each client's project requirements are unique, and we therefore offer services that are tailored to your project, and can encompass an extensive range of capabilities. We pride ourselves on an expert planning and management process that's rooted in years of practical experience delivering demanding & complex projects, in which we have overcome challenges & constraints to deliver a smooth & professional site clearance service to our clients. This allows us to perform ensure all our projects are completed seamlessly and efficiently, whatever the particulars and complexities of each task. Experienced, versatile and innovative, we have a uniquely broad toolkit of services to deliver everything it takes to meet additional requirements, including:
PREVIOUS DEMOLITION & DISMANTLING PROJECTS
Here are some example of Ron Hull Demolition Ltd's previous demolition projects.
Ron Hull Demolition Ltd also offer Emergency Call Out services. Please call 01709 524115 for more information.
Watch: one of our past projects- providing heavy industrial dismantling services
What is the role of the demolition contractor?
The role of a demolition contractor is to dismantle buildings and structures in a safe, professional manner. The demolition contractor will also be in charge of ensuring that all waste from the demolition is disposed of correctly. This can include the removal of items within the building before the demolition takes place, as well as the waste that comes from the demolition. After the demolition is complete, the demolition contractors will ensure that all waste is recycled correctly.
CONTACT RON HULL DEMOLITION
If you are looking for dismantling and demolition services, why not give us a call on 01709 524115 to see if we can help? Alternatively, click here to contact us.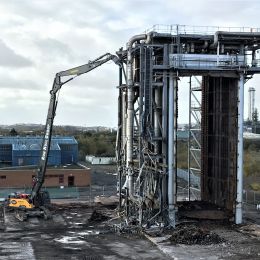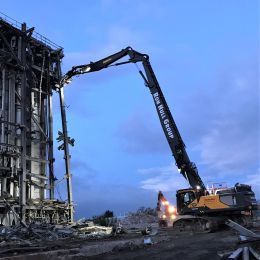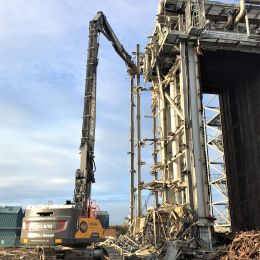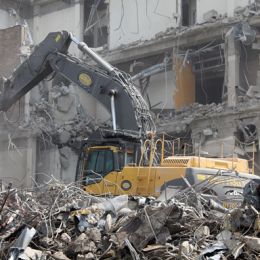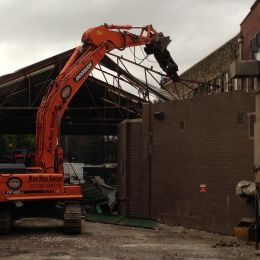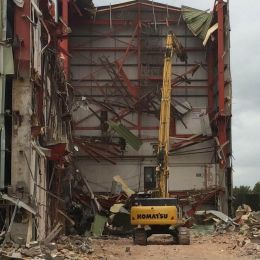 ENQUIRE - 01709 524115