SKIP HIRE BASED IN ROTHERHAM
SOUTH YORKSHIRE SKIP HIRE, WASTE MANAGEMENT & RECYCLING
Ron Hull provides fast and efficient skip hire in Rotherham and across South Yorkshire. We have a range of skips available for hire to suit both household and commercial waste. If you are unsure what size skip suits your needs best, we are more than happy to advise you on skip sizes. Our dedicated team provides a flexible and competitive skip hire service, with recycling and recovery processes all carried out at our Rotherham facility. Putting the environment first, our ethos is to let nothing go to landfills.
Founded in 1976, Ron Hull Ltd has grown to become the comprehensive waste management service provider in South Yorkshire. Based at our large, purpose-built site in Rotherham, we perform a complete waste removal and recycling service, from local removals to full site decommissioning and land remediation. Locally we are best known for our skip hire services, which have been servicing Rotherham, Sheffield, Barnsley, Doncaster, Mexborough for many years, with hundreds of satisfied customers.
WHAT CAN A SKIP BE USED FOR?
Skips are typically used when you are going to have a high amount of waste that you want to get rid of in one go. They are most commonly used when there is construction, demolition or garden projects where you are going to collect a lot of waste. By having a skip you can get rid of all the waste in one go without having to take several trips to your local skip. We can collect the skip from you so all you have to do is fill it up and leave the rest to us. We are also dedicated to recycling as much waste as possible, so when you choose our skip hire you can be confident in knowing that your waste is being recycled and reused.
We can collect and recycle the following materials: Ferrous Metal, Non-Ferrous Metal, Plastics, Wood, Aggregate, Cardboard, Paper, Glass, Textiles, Electrical Equipment with rebates available on certain waste. Contact us here to speak to a Waste Management Expert.
OUR SKIPS AVAILABLE ACROSS ROTHERHAM
The Ron Hull Group has a wide variety of skip sizes to choose from. All of our skip containers come with secured lockable lids to prevent anybody from getting into and using up space in your skip. The skips come at an ideal loading height for on-site filling, while also being easy to move around your site with a forklift.
We can provide you with the following collection skips: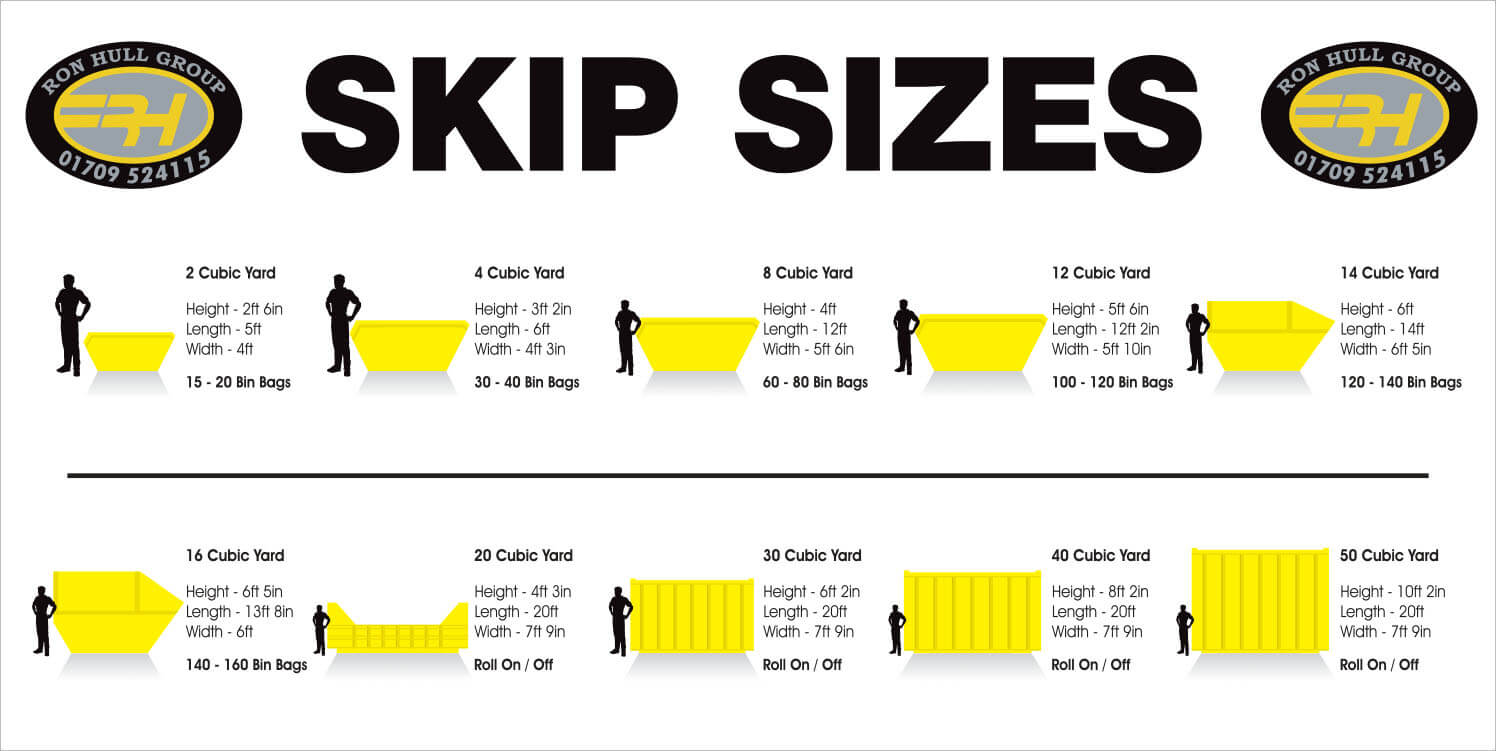 With our extensive fleet of lorries, we are able to collect any size and type of waste from the client and then recycle within our own waste transfer station in Rotherham.

The Ron Hull Group understands that each customer's waste management requirements are unique and therefore we offer a waste management consultancy service that encompasses our diverse range of recycling activities.
Our primary incentives are:
To constantly lower ours and our customers' carbon footprint by using environmentally sound and up-to-date waste separation techniques and recycling processes;

Improving productivity and efficiency by investing in the latest technology and environmental techniques;

Ensuring customer awareness of financial options within scrap metal and waste recovery to assist in vital cost minimisation
All of these are interlinked to bring the best value, peace of mind and security to our customers whilst adhering to Ron Hull's corporate ethos of recycling "from Cradle to Grave".
CONTACT US TODAY FOR ROTHERHAM SKIP HIRE
If you are looking for cheap skip hire in the Rotherham area, gives us a call on 01709 524115 to see if we can help? Alternatively, click here to contact us.
Address: Mangham Road, Parkgate, Rotherham South Yorkshire, S62 6EF